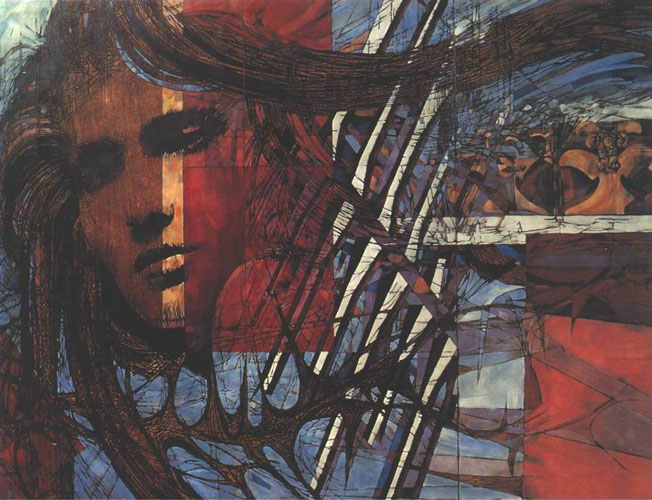 LIBERTY
Acrylic & carving on wood
5 foot x 30 foot
The 'LIBERTY' mural project was produced as a gift to the people and the government of Costa Rica. It was a gift from the State of Florida, FLORICA
( Florida Costa Rica Institute), and the Artist.
The mural was 'Dedicated to Peace and Friendship' by President Oscar Arias a day before he flew to Guatemala to sign the Guatemalan Peace Accord in 1987. It was sponsored in the Costa Rica General Assembly by the President of the General Assembly; Dr. Rose Marie Karpinski. Voted on for acceptance; it was installed in Juan Santa Maria International Airport; San Jose, Costa Rica. In that location, it provided a strong and visible image which celebrates the interrelationship between the people of the United States and Costa Rica, our joint commitment to democracy, friendship, and respect between our two countries.
The Detail of the mural shown above is from the inside center of the mural. 'LIBERTY' is 5 ft high and 20 ft. wide when opened and 10ft. wide when the side panels close over the inside. Abstraction symbolizing interaction covers the outside of the mural, with figurative images relating to the inside. The mural consists of acrylic and carving on wood. The total artform is 5 ft. x 30 ft. After renovation of the airport in 2005 it was delivered to the care of the Costa Rica Museum of Art.
The artist asked for Costa Rican children to draw into the lower front portion of the mural. That was then carved and finished by a Group of skilled Costa Rican Artists under his direction; thus adding their artistry to the 'LIBERTY' mural.